Why Transition to eCommerce?
Transitioning to ecommerce has many benefits, but choosing the right digital transformation partner is crucial. When you partner with Smile MEDIA, you'll work with a diverse team of experienced ecommerce developers with a deep knowledge base and a passion for building successful ecommerce solutions to help you:
Increase website traffic
Increase lead generation
Increase online sales
Transform your digital presence
Optimize the customer experience
Successfully scale your business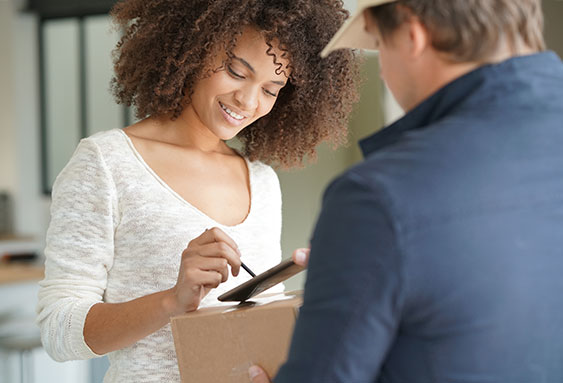 Smile MEDIA
eCommerce

Solutions

Smile MEDIA is a full-scale digital agency utilizing our advanced technology and expertise to guide you in successfully scaling your business. Our team of Magento Certified professionals builds high performance eCommerce solutions designed to help your business undergo a complete digital transformation. We deliver comprehensive, scalable solutions to support the eCommerce needs of your business in a digital world.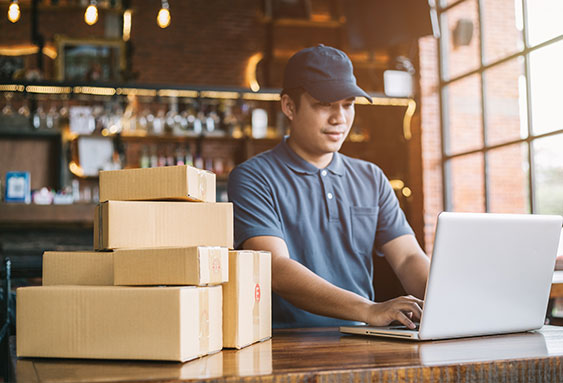 eCommerce Web Development
As a full service eCommerce agency we build eCommerce solutions that are customized to meet the needs of your business as you grow. We use one of the world's best eCommerce platforms - Magento - to build a digital commerce solution that is customer-focused, results-driven, and scalable for your business size now, and in the future.
Customized eCommerce Design
Customized eCommerce Design
Following best practices for eCommerce design and development, all of our eCommerce solutions are built for high performance. eCommerce designs are:
Fast, Stable & Secure
We build reliable eCommerce solutions with you and your customers in mind. Our services are consistently fast, stable, and secure, ensuring the best possible user experience.
Optimized for Mobile
All our solutions are developed with the mobile user in mind, so customers can enjoy an optimized experience from anywhere, at any time.
Functional Design
We use simple, yet functional designs geared towards increasing conversions and optimizing the customer experience, which leads to higher conversion rates and happy, loyal customers.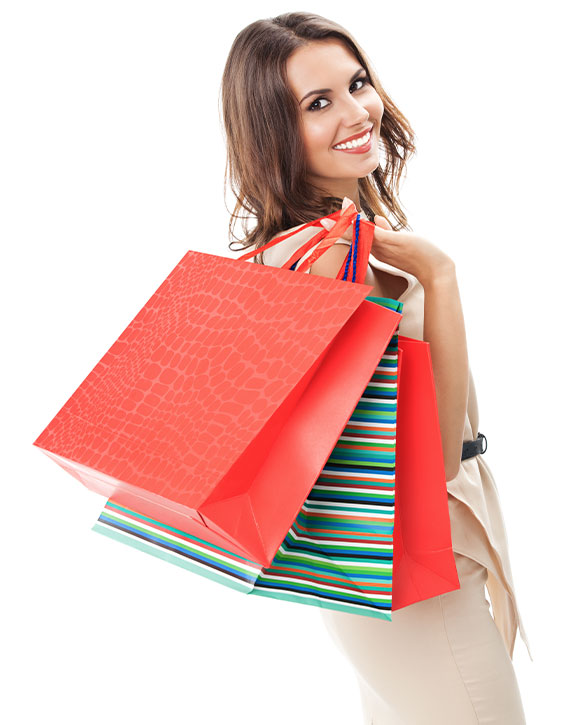 eCommerce SEO Optimization

One of the most important factors in driving sales is how visible your eCommerce website is. We fully optimize your website for search engines, so customers can find you and convert.

eCommerce Performance Audits

We monitor your eCommerce website closely to ensure that it is always functioning at its best. We provide regular performance audits so you can see just what's working and what's not.

eCommerce Support

We keep your ecommerce site going so you can keep marketing/selling to customers/running your business. With Smile MEDIA, you can count on us to make regular, basic updates to your eCommerce site to ensure it is always performing at its highest potential.

eCommerce Consulting Services

Do you need some assistance choosing the right eCommerce platform for your business? We offer in-depth eCommerce consulting services, where we analyze the unique needs and goals of your business, and help align you with the right eCommerce solution.
Are you interested in learning more about our eCommerce Solutions? Contact Us
The Power of

Magento

eCommerce Development
Why choose Magento? Developing eCommerce websites with Magento allows for a simple and seamless digital shopping experience for your customers. Because Magento is backed by such an expansive support network, the platform provides seemingly endless extensions and flexibility to customize your website to meet your eCommerce needs as your business grows.
eCommerce Integrations
In addition to our expansive eCommerce solutions offered, we can also integrate your existing applications into your new ecommerce solution with ease and efficiency. Our eCommerce solutions are easily integrated with an expansive list of popular 3rd party enterprise solutions, including:
Contact us for additional information or questions about our eCommerce integrations.
Magento Integration with
Magento+ SAP Integration
Magento + LightSpeed Integtration
Magento + Odoo Integration
Magento + Sage integtration
Magento CRM integration
Magento ERP integration
Magento QuickBook Integration
Magento Marketing tools integration
Magento MarketPlace integration
Magento Third Party API Integration
Magento Avalara integration
Magento Akeneo Integration
Magento OROCRM Integration
Magento PIMS integration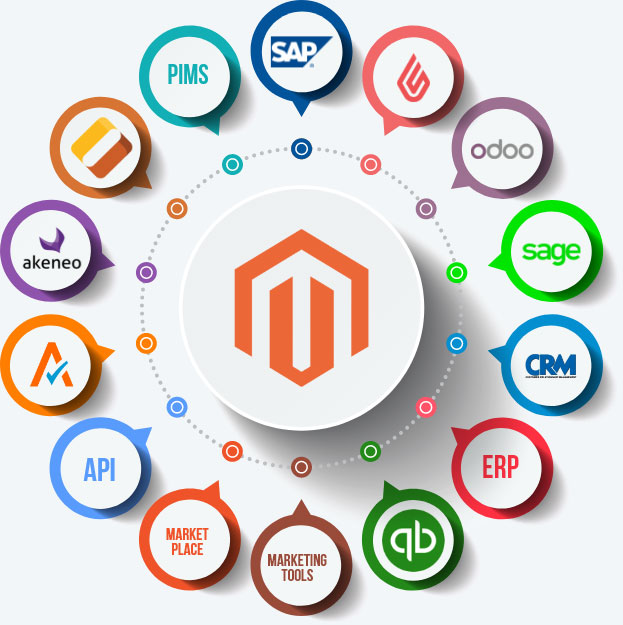 Magento Migration

Services

Migrating from one eCommerce website to another can be a complex process. However, with the right technology partner, it can be a seamless and efficient transition. At Smile MEDIA, our team of eCommerce experts is capable of migrating your website to a better platform - Magento 2.
Migrating from Another Platform

Are you already using an eCommerce solution, but looking to switch to a more powerful platform? We offer eCommerce migration solutions to help you migrate your existing website to the latest version of Magento - Magento 2.

Migrating from Magento 1 to Magento 2

Are you currently operating your eCommerce website on Magento 1? Support for Magento 1 ends in June 2020, which means the time to migrate to Magento 2 is now. Smile MEDIA can help you migrate your eCommerce website to the latest version of Magento, so you can ensure your website is fully supported and secure.
Are you looking to migrate your eCommerce website to the latest version of Magento? Contact Us. today.
Related Digital Services
Smile MEDIA offers a variety of additional services related to eCommerce development and design. We are a full-service digital development agency with locations in Boston, MA, Exeter, NH, and Dover, NH. If you are looking for web development services, mobile app development, or digital marketing services, we'd love to hear from you.